Program overview
We offer two distinct fellowship tracks, a two-year clinical scholar track for physicians interested in academic or community-based clinical practice, and a three-year research track for physicians interested in protected research time, with aspirations for an academic career in teaching or research or a career in industry.
Both tracks provide an opportunity for personalization of the training experience to fit trainees' interests, as well as ample time to pursue scholarly projects.
Our fellows divide their time among three hospitals: the University of Washington Medical Center (academic medical center), Harborview Medical Center (county hospital), and the VA Puget Sound Health Care System.
These centers provide care for patients from throughout the Pacific Northwest, providing our fellows a unique educational experience, with the opportunity to care for a diverse population, including patients from the agricultural areas of eastern Washington to the rural villages of Alaska to our urban core in Seattle.
Our trainees gain experience with all aspects of endocrinology and have moved on to careers in both academic medicine and community practice.
In addition to unparalleled clinical experiences, our fellows have the distinct advantage of working with our outstanding faculty, who are not only passionate about the patients they care for but view teaching as one of the central pillars of their work here and enjoy working with our fellows as both clinical and research mentors. 
Our graduates consistently note our faculty as being one of the highlights of our training program.
Welcome From the Program Director

Hello applicants!
We have an excellent training environment here in the beautiful Pacific Northwest and hope you will consider us in your application process. We strive to provide a balance between clinical education, scholarly activity, and personal well-being. 
As program director, I am very invested in the quality of training we provide our fellows. I hope that you will consider our program as you are looking at potential training sites, and please reach out if you have any questions. We are all looking forward to meeting you!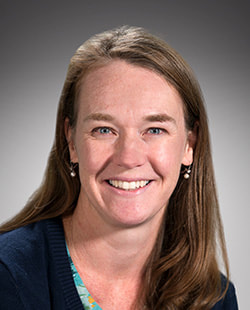 Tracy Tylee
Associate Professor
Program Director
Vision, Mission & Values
Our Vision
To be a nationally recognized and fully accredited ACGME training program for internal medicine graduates passionate about endocrinology and metabolism.  
Our Mission
Train the next generation of leaders in endocrinology and metabolism for careers in academics or community practice.
Establish a learning environment that supports diversity, equity, and inclusion.
Provide trainees the opportunity to explore the different areas of endocrinology and personalize training to develop their clinical interests.
Encourage trainees to improve the delivery of health care through scholarly projects in basic research, clinical research, quality improvement projects, and/or medical education.
Help trainees to achieve their personal goals through education and mentoring in a supportive environment with faculty who are invested in the success of all our trainees.
Our Values:
Clinical Experience 
Our trainees rotate across multiple clinic sites with diverse patient populations, providing experience managing a wide variety of endocrine disorders.
Inpatient rotations take place in world-renowned academic medical centers and provide experience managing a wide range of endocrine complications of surgeries and malignancies.
Elective rotations provide experience with the evaluation of many outpatient endocrine disorders, including bone, pituitary, PCOS, thyroid nodules, thyroid cancer, and inpatient glycemic management.
Diversity
We encourage applicants from diverse backgrounds and training experiences to apply to our program.
Our patient population encompasses patients from all socioeconomic strata and those from diverse backgrounds, encouraging trainees to address and work to reduce bias in the healthcare system.
Academic Growth
Our program provides opportunities for clinical research projects based on trainees' interests.
Fellows receive support for completing clinical research or quality improvement projects during training to expand medical knowledge and improve the health care system.
Fellows are encouraged and provided support to attend national conferences annually.
Wellness
We have developed a schedule that includes a balance of clinical work, self-directed learning, reduced travel, and scholarly time to avoid physician burnout.
All fellows are assigned a faculty mentor during training to assist with navigating transitions throughout training.
Our faculty are committed and invested in the long-term wellness and success of all our trainees.